HANDHELD FROM BARCELONA (18 january 2007)
As you can read in this weblog, I visited Barcelona ten days ago. On the very first day of my visit I stumbled upon a shop that specializes in games.
Amongst an enormous number of games, this shop stocked a few models of chess computers, all made by manufacturer Novag ... although I wonder if the Novag Touch which I bought is an original Novag design: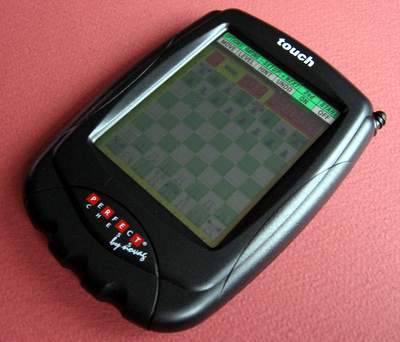 'Novag' Touch
It does say Novag on the above computer! And the colours are different from the machine shown below, but the two machines look very much alike, don't they?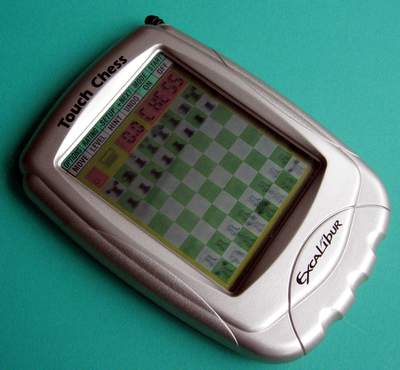 Excalibur Touch Chess
Unfortunately, this latter computer spontaneously stopped functioning several months ago, so I can't compare them any more.
Considering the similarity in appearance and the fact that the manuals look alike as well, I wouldn't be surprised if the Novag computer is the same as the one made by Excalibur, but dressed up in different colours.
Quick assessment: Fritz-one-ply
As I wrote in earlier weblogs, a quick way to gauge the playing strength of weaker chess computers is by pitting them against one-ply Fritz.
So I started Fritz. And if your computer has Java installed, you can see how the Novag Touch gadget beat the greatly weakened matador:
Fritz-one-ply - Novag Touch
10 seconds per move
Winning against Fritz on only one ply may look an easy job, but it means Novag Touch is definitely not a computer for beginners.
In a second game, Fritz managed to get a material advantage that would even allow a beginner to win. But wat happened? Fritz-one-ply appeared to be unable to mate in an end-game of K+R against K. The game ended in threefold repetition.
Novag Touch - Fritz-one-ply
10 seconds per move
One win and one draw (albeit undeserved). This result demonstrates Novag Touch has a playing strength which makes it a good computer for occasional players (and perhaps weak club players).
Another handheld, G860:
I was wondering how it would perform against other handheld computers. A few weeks ago, I received a computer with a somewhat prosaic name: G860.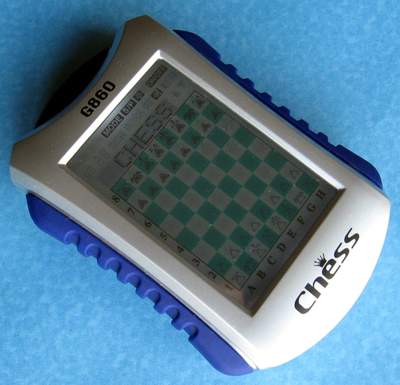 G860
This G860 is not very expensive, but looks rather slick with its backlit screen.
It does, however, have a few disadvantages: although it allows its opponent to castle. it never seems to play castling moves itself. Another problem with this computer is that it doesn't seem to be able to play white.
Against Fritz, the G860 sometimes plays a rather tough, defensive kind of game. But against Novag Touch, its defenses gave way quickly. In case you're curious to see how they played, this game may be revealing:
Novag Touch - G860
10 seconds per move
A worthy opponent: Maestro:
A problem with Novag Touch (and its twin, Excalibur Touch Chess) is that it's not for sale in many European countries. A computer that is easier to come by (at least in the Netherlands) is Mephisto Maestro, a computer with a backlit screen and an abundance of options. I prefer Maestro's user-friendly manual (in six languages) to the concise information provided with the Novag Touch (only Spanish).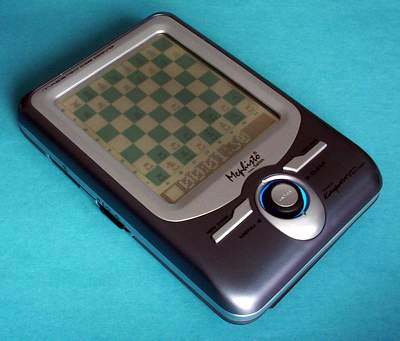 Mephisto Maestro
But the Maestro is bulkier than the slim Novag Touch. Moreover, I found Novag's chessmen easier to distinguish on the screen than Maestro's -- although both have inferior chessmen compared to the chess games that can be played on the average palm top.
But how well does Maestro play against the Novag computer? I set both computers at 10 seconds per move. Strange enough, the Mephisto computer seemed to use much less than the assigned ten seconds.
Anyway, set at 10 seconds a move, the two computers appeared to be a reasonable match, although if Maestro would really use the time assigned, I can imagine it would have played somewhat stronger.
The following game shows the risk of playing gambits. Black plays the Budapest gambit, about which its opponent seems to have no information at all. So one would expect white to be at a disadvantage, See for yourself how Novag Touch copes and eventually manages to win:
Novag Touch - Mephisto Maestro
10 seconds per move
Concluding I would say this Novag Touch is a reasonably strong computer, although I think the price I paid in Barcelona (71,40 Euro) is a bit steep, being more than twice as much as one would pay for its twin, Excalibur Touch Chess.