TRIP TO BARCELONA (6 january 2007)
Tuesday
When -- as recommended -- we arrive at Schiphol Airport more than two hours before departure, we are getting the fright of our life: all the check-in desks are unoccupied. Would the staff have gone on strike?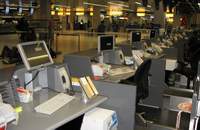 vacant check-in desks
But after some fifteen minutes' waiting, we see the grey-clad Iberia ladies appear, and another fifteen minutes later we find ourselves standing next to the detection equipment.
Tom, who doesn't feel too well, has been thoughtless enough to include a tube of cream in his hand luggage. The latest regulations require this tube to be carried around in a transparent plastic bag, so everybody can see it's no bomb.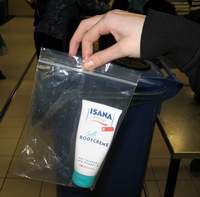 tube in plastic bag
When a photo is taken of the bag, an official gets startled by the flash and wants to see the photograph. A short inspection assures him no state secrets have been photographed. We are lucky it's a digital photo -- otherwise we wonder if the film wouldn't have to be destroyed.
Both artificial christmas trees placed by Schiphol and a female visitor dressed in hunting attire remind the family of the season.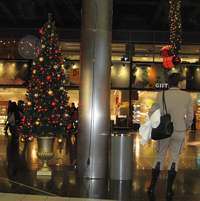 Xmas tree & hunting attire at Schiphol
At half past six sharp the aeroplane takes off. On the plane, every member of the family tries to cope with the lack of sleep in his/her own way.
Two hours later we find ourselves in front of the A terminal of El Prat, Barcelona's airport. As true-blue Dutchmen, they first intend to take train and bus to the get to the hotel. But considering the fact that all suffer from serious sleep deprivation, Tom decides to treat the company to a taxi ride. On the way to the hotel, the first palm trees are spotted.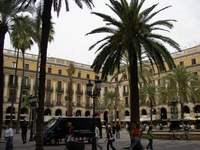 palmtrees in Barcelona
The taxi ride takes about half an hour. The reception staff at Hotel Commercio are friendly and helpful, but the rooms are rather dark and will later turn out to be far from soundproof.
The daughters are so tired that they decide to try out the hotel beds. Their parents choose to explore the city. Soon Tom finds a shop that specializes in games.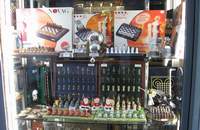 game shop window
The shop stocks no fewer than three models of chess computers that are missing in the Overtom-collection . Purchasing all three would perhaps be too much of a burden on the budget (and the luggage), but just one would not be unreasonable. So hardly fifteen minutes later the overtom-collection has been expanded to 259 pieces.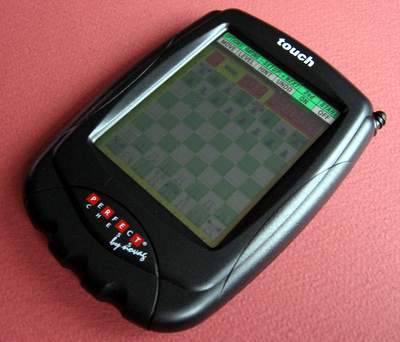 computadora de ajedrez
Within ten minutes they will find another shop that sells chess computers. No less than two shops with chess computers within one hour, isn't that promising? (unfortunately, no more chess computers will be found during the following days!)
They pass a market hall, where all kinds of fresh food are exhibited. A photo is made that will not have much appeal to vegetarians (nor to many carnivores, for that matter):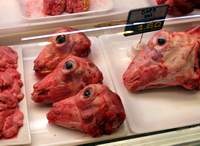 photo taken at market hall
Soon they'll discover that Barcelona has a lot of pretty architecture to offer: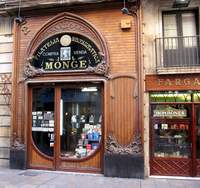 post stamp shop
But the ugly is never far away ...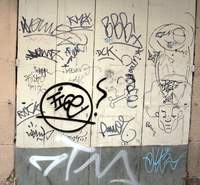 so-called tags
After an hour and a half, Tom and his sweetheart return to the hotel, where the family decide to spend the rest of the afternoon together. After a quarter of an hour Tom finds he's not feeling up to the mark and makes his way back to the hotel. Looking for the right way, he suddenly finds himself in an oasis of tranquility in bustling Barcelona, a courtyard where oranges grow on trees and a musician plays classical guitar music: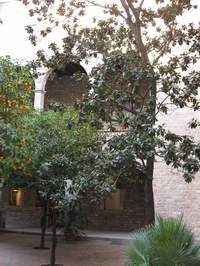 courtyard with orange trees
In the days to come, Tom will again go looking for this place, but he will not manage to find it.
On the Internet they've read that the rooms of hotel Commercio are not exactly soundproof. They will discover there is some truth in these stories. But with ears stuffed with cotton wool, sleep is not impossible.
The television sets seem to be suspended so as to facilitate bumping the heads.
'bump-prone' tv
Fire extinguishers are other objects attached to the wall that do not exactly give in when heads are bumped against them -- as one of their fellow-guests will notice too late.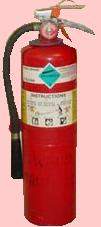 another un-soft object
Wednesday
The next morning they make their way to the breakfast room. Those who love their bread spread with jam are catered for, but that cheese, sausage or eggs can also be put on sandwiches seems to be unknown to hotel Commercio.
Spain's most famous architect is probably Antoni Gaudi, who was born in 1852. Today the family intends to visit Parc Guell, designed by Gaudi. It's estimated that footing it from the hotel will take at least two hours.
They pass Plaça de Catalunya , where a statue of a female figure seems to be on the verge of giving away one breast. Those in charge possibly want to prevent her losing her head as well, for it has been fastened with a band of strong and durable material.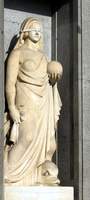 remarkable statue
The itinerary leads them past several great-looking edifices, most of which will probably not be mentioned in any travel guides.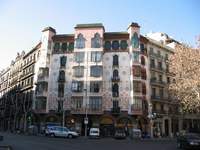 block of flats
Later, they pass an object that you'll find in every travel guide on Barcelona, the Sagrada Familia, the cathedral that Gaudi worked on from 1883 until his death in 1926. Later, several other architects have contributed. But opinions differ as to the merits of these contributions.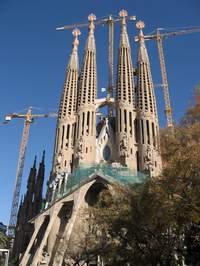 La Sagrada Familia
When the path gets steeper and steeper, they decide to get into a bus -- for which five Euros must be paid. In less than half a minute the driver announces they've reached Parc Guell. So for three hundred yards they've paid five Euros ... after they have walked more than five miles!
Here are a few of the pictures we took at the park:
mosaic bench with Lea, Violet, Tom
viaduct designed by Gaudi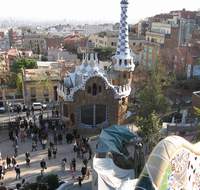 park entrance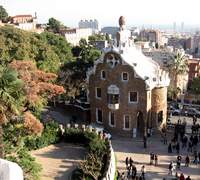 park entrance
After spending two hours in the park, the family get into a taxi for a ride back to the hotel, which costs them no more than eight Euros for five miles -- only three Euros more than the three-hundred-yard bus ride they made two hours ago.
On their return to the hotel they see how the receptionist gives a new meaning to the word keyboard: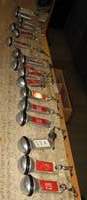 keys on desk
Thursday
Today they decide to cross the Ramblas in order to see what the other side has to offer. The Ramblas are a series of boulevards frequented by tourists. Street artists give performances, such as these paint-covered cyclists who vigorously operate the pedals as soon as money is thrown into the drum: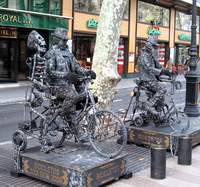 bicycle performers
But first they visit supermarket Carrefour on the Ramblas. where they procure victuals. At the supermarkt they see piles of boxes with roscón de reyes, the Spanish epiphany cake. Quickly a picture is made of one of them: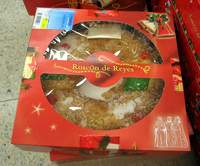 roscón de reyes
After walking for an hour or so, they feel a bit peckish and start looking for a free bench. The only vacant specimen is surrounded by bags filled with demolition debris. There is not much choice, so they have lunch amidst the rubble.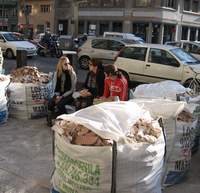 no déjeuner sur l'herbe
During their lunch they regularly hear sounds as if a Pan flute is blown. After some minutes, it becomes clear where this originates from: they spot a knife-grinder who has mounted a grindstone on the back of his scooter. Every fifty yards or so he blows a kind of plastic Pan flute to notify potential customers.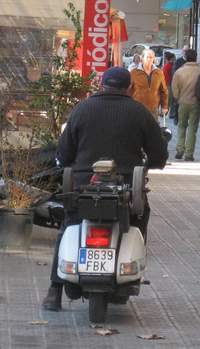 knife-grinder on scooter
Once again, there's no lack of pretty buildings: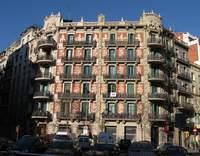 The sky is clear and it must be around twenty degrees centigrade. What better to do than descend on a terrace? Tom tries to decipher the menu with the help of a primitive translating computer.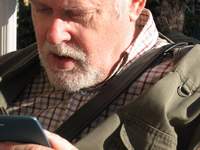 Tom & translating computer
The menu is written in Catalan, which is clearly different from the Spanish as contained by the computer.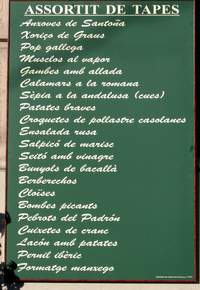 Catalan menu
But to order café con leite, cappuccino and cola, they don't need the menu -- or any translating computers.
The family are not too keen on bullfights, but if they were, they would be out of luck -- the arena is being refurbished: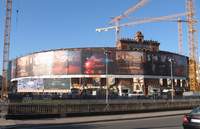 Arenas de Barcelona
Road workers in Amsterdam could learn a thing or two from their Barcelonese colleagues. Where in Amsterdam they have no scruples to just shut off the pavement, in Barcelona two workmen are specially assigned, one to accompany the pedestrian to the other side of the road, and the other for the way back: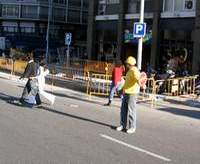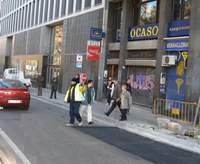 Another thing Amsterdam cannot offer are beautiful oriental houses (and palmtrees) as shown here -- but that's a thing they can't help in Amsterdam, can they?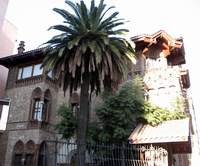 oriental house (with palmtree)
They walk on along the Gran Via de les Corts Catalana (yes, quite a mouthful -- you may well say that, ma'am), where hundreds of market stalls mainly sell toys and sweets. For the former commodity the daughters may be somewhat old, but some of the sweets seems to intrigue them disproportionately, in particular something that looks like black rock, as well as a potty whose content resembles excrement (sorry sir, I didn't know you were that sensitive). Their dad, hardly able to restrain his curiosity, does not need much persuasion to finance acquisition of this odd-looking confectionery.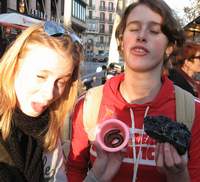 strange confectionery
The black rock appears to consist of a hard variation of a material that's sometimes referred to as fondant, while the content of the potty can probably best be defined as a paste of figs.
Whenever they negotiate the Ramblas, they pass a house that houses a bank. It looks as if it used to be a Chinese restaurant. Tom is surprised that a bank should move into a building without giving it the solid appearance usually associated with banks.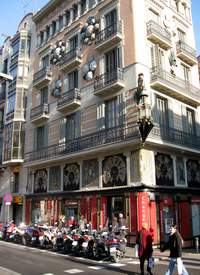 Chinese restaurant?
Later, Lea will read in a travel guide that this has never been a Chinese restaurant, but the Casa Bruno Quadras, dating from 1891 built in oriental style.
Whenever they leave their hotel, they see long queues waiting in front of the adjacent restaurant La Fonda. When they pass it today, the queue is neglible. Perhaps a good occasion to find out why so many guests found it worth waiting.
The food appears to be exceptionally cheap: eight Euros will buy you a main dish, and a bottle of penedès costs about the same price.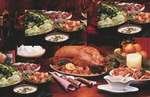 Tom orders soup with mushrooms and vegetables. The dish that is put before him a little later does not exactly match this description. After a few bites, Tom is getting more and more convinced this is no soup, but probably something like lasagna, a dish that has never had much appeal to him. The waitress is notified and after a while she does indeed bring soup. Again, Tom takes a few bites, but however hard he exerts his taste buds, neither vegetables nor mushrooms can be perceived. It turns out to be a kind of fish soup, a dish that has never been very high on his list of favourites -- specially not this variation.
Meanwhile, Tom has got so nauseous that -- quite contrary to his habits -- he does not empty his plate. Fortunately, the rest of the company have less problems. Consequently, the meal passes in a pleasant atmosphere; with some perverse pleasure Tom's mishaps are rubbed in. The victim is, however, somewhat cheered up when the bill arrives: for four starters, four half litres of mineral water, four main dishes, four colas, two desserts and a good bottle of wine they have to pay less than seventy Euros.
At the hotel room there are no free wall sockets. The only one available is in the bathroom. That's where Tom has plugged in his telephone for recharging.
After three hours in the socket, the telephone still signals it's as good as empty. The daughters provide an explanation for this unexpected phenomenon: the socket only works when the light in the bathroom is on. And being thrifty people the family are, of course, used to turning off the light when leaving the bathroom.
Friday
Tonight, the family will leave. The parents decide to make one more walk, whereas their daughters prefer to stay near the Ramblas.
Not far from the Rambla de Catalunya they see a large tangle of white wires on top of a building. Neither Lea nor her spouse can see head or tail in this contraption.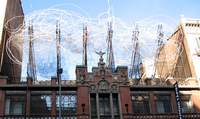 art?
They conclude that this must be meant to be art. They count their blessings that not all Barcelona is full of this kind of 'art'. They pass some other (albeit less "artistic') buildings. Some even have their doors open so that the Amsterdam couple are allowed a few glances inside.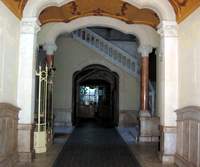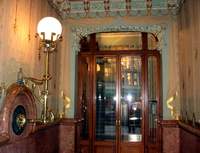 They see a quaint building at the Rambla de Catalunya which is named Casa Serra and where the Deputacio de Barcelona is housed. The aquarium-like building behind it seems to have been built by a bunch of quite famous architects when the Casa Serra was found to be too small. Whether the result can be called pretty or not is a matter open for some debate.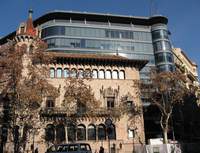 Casa Serra
An institution mentioned in many travel guides is Mauri, a renowned pastry shop. When Tom opens the door, a waft of old ladies' perfume enters his nostrils. The elegant-looking but not very comfortable furniture cannot persuade Tom either. They give up any efforts to taste the pastry and/or chcolates.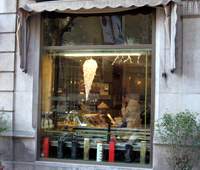 Mauri
They return via the Passeig de Gràcia, with its famous lamp posts designed a century ago by Pere Falqués, which are part of mosaic-decorated benches.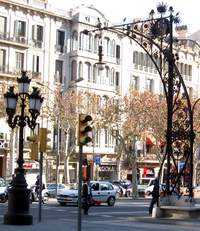 lamp post-cum-bench
At number 92 they find Gaudi's famous Casa Milla. Needless to say the obligatory photograph is taken.
Casa Mil࠼a
Those who look down in this street will behold very special tiles, another of Antoni Gaudi's designs.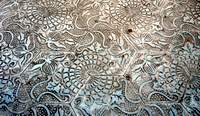 Gaudi street tiles
Shortly before they will enter the Via Laietana , they see a figure on the opposite side of the street which resembles Dutch Zwarte Piet. It turns out to be the helper of one of the Three Kings. They cross the street and are informed that Epiphany (Día de Reyes) is celebrated rather exuberantly in Spain. Tonight a large procession will take place. Alas, the family will have left Barcelona by then ...
helper of Three Kings
After their return to the Ramblas, Tom wonders why one building is wrapped in greenish gauze. Is it so dilapidated that pieces of rubble would otherwise endanger pedestrians passing by?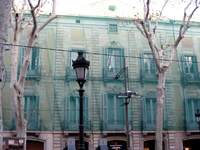 Lea suggests it might be a clinic for suicidal patients who in this way have less opportunity of jumping out of the windows.
When a little later, they present these theories to their daughters, Violet puts forward a third alternative: it could be a table tennis club and the gauze prevents the balls from shooting out of the windows in this way. They will probably never know ...
By five o'clock they will find a taxi waiting at the hotel. Too early, it's true, but the roads are expected to be clogged when the epiphany celebration starts. Needless to say they reach the airport far too early. With reading and solving sudoku puzzles, they try to dispel the boredom characteristic of almost all airports.
At the aeroplane they find only two thirds of the seats are occupied. So Liset's cuddly toy Mouse has a complete seat for itself. Of course, Mouse is also firmly fastened with a safety belt.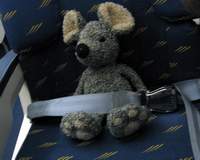 Mouse behind safety belt
After their arrival at Schiphol, they are almost starving. When they are charged over forty Euros for six rolls and five drinks at Juggle Sandwich Bar, they realize this is Holland and Spain is a thing of the past.