Mephisto (alt.)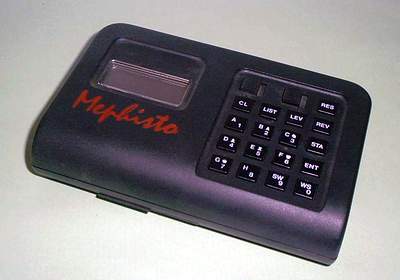 Computer name:
Mephisto
Manufacturer:
Hegener & Glaser
Dates from:
1980
Dimensions:
17 x 10.5 x 4 cm.
Processor:
1802
Programmer(s):
T.Nietsche & E.Henne
Rating:
beginners / weak occasional players (Elo 1252)
Other details:
convertible program-module
First Mephisto. Hence no type name
LCD-display.
Operated via keys
Housing designed for Mephisto 2
In the last three games it became clear that this
computer doesn't recognize threefold repetition.
4 EXAMPLE GAMES:
White: Fritz 8 (1 ply)
Black: Mephisto (alt.) (± 10 seconds / move)
(Result: won by white)
White: Fritz 8 (1 ply)
Black: Mephisto (alt.) (± 10 seconds / move)
(Result: drawn)
White: Fritz 8 (1 ply)
Black: Mephisto (alt.) (± 10 seconds / move)
(Result: drawn)
White: Fritz 8 (1 ply)
Black: Mephisto (alt.) (± 10 seconds / move)
(Result: drawn)