Mephisto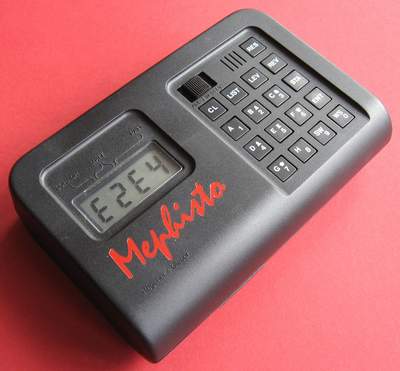 Computer name:
Mephisto
Manufacturer:
Hegener & Glaser
Dates from:
1980
Dimensions:
17 x 10.5 x 4 cm.
Power supply:
4 x AA, or adapter (9 Volt AC)
Processor:
1802 (8-bit, 3.5 MHz.)
Memory:
16 KB ROM, 4 KB RAM
Programmer(s):
Thomas Nietsche and Elmar Henne
Rating:
beginners / occasional players (Elo 1252)
Other details:
convertible program-module
First Mephisto. Hence no type name
LCD-display.
Operated via keys
Nicknamed Brikett
The way in which Fritz checkmates in
the second game is quite curious.
4 EXAMPLE GAMES:
White: Fritz 8 (1 ply)
Black: Mephisto (± 10 seconds / move)
(Result: won by black)
White: Fritz 8 (1 ply)
Black: Mephisto (± 10 seconds / move)
(Result: won by white)
White: Fritz 8 (1 ply)
Black: Mephisto (± 10 seconds / move)
(Result: won by white)
White: Fritz 8 (1 ply)
Black: Mephisto (± 10 seconds / move)
(Result: drawn)