Chess Chall. Voice (French)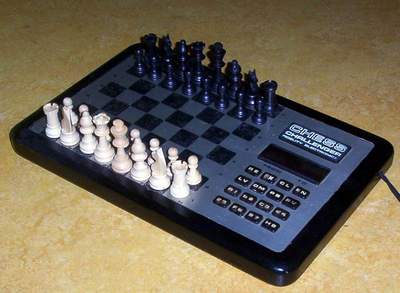 Computer name:
Chess Challenger Voice
Manufacturer:
Fidelity Electronics
Dates from:
1979
Dimensions:
33 x 21.5 x 2.5 cm.
Processor:
Z80, 3.9 MHz.
Memory:
8 KB ROM, 1 KB RAM
Programmer(s):
Ron Nelson
Rating:
Occasional players (Elo 1359)
Other details:
English voice, also in some other languages
Controlled with keys, (red) LED display
Board not connected to computer
(Game of the year 1979)
Click the loudspeaker to hear the voice
The 1st game shows that Fritz-1-ply is unable
to checkmate with K+R+Kt against K.
4 EXAMPLE GAMES:
White: Fritz 8 (1 ply)
Black: Chess Challenger Voice (French) (± 10 seconds / move)
(Result: drawn)
White: Fritz 8 (1 ply)
Black: Chess Challenger Voice (French) (± 10 seconds / move)
(Result: won by white)
White: Fritz 8 (1 ply)
Black: Chess Challenger Voice (French) (± 10 seconds / move)
(Result: won by white)
White: Fritz 8 (1 ply)
Black: Chess Challenger Voice (French) (± 10 seconds / move)
(Result: won by black)