Ch. Chall. Voice (Deutsch)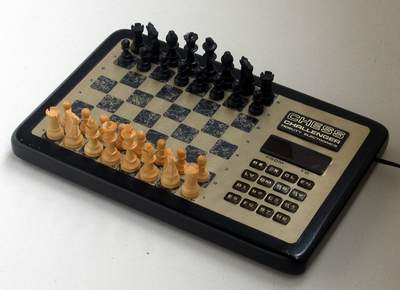 Computer name:
Chess Challenger Voice
Manufacturer:
Fidelity Electronics
Dates from:
1979
Dimensions:
33 x 21.5 x 2.5 cm
Power supply:
supplied adapter
Processor:
Z80, 3.9 MHz
Memory:
8 KB ROM, 1 KB RAM
Programmer(s):
Ron Nelson
Rating:
occasional players (Elo 1359)
Other details:
German voice, also available in English and French versions.
Controlled with keys, (red) LED display
Board not connected with computer
Declared Game Of The Year 1979
Unlike the other two computers, whose board is
silvery, this one has a gold-coloured board.
Click the loudspeaker to hear the voice
It's strange that Fritz allows stalemate in the 3rd game!
4 EXAMPLE GAMES:
White: Fritz 8 (1 ply)
Black: Chess Challenger Voice (Deutsch) (± 10 seconds / move)
(Result: won by white)
White: Fritz 8 (1 ply)
Black: Chess Challenger Voice (Deutsch) (± 10 seconds / move)
(Result: won by black)
White: Fritz 8 (1 ply)
Black: Chess Challenger Voice (Deutsch) (± 10 seconds / move)
(Result: drawn)
White: Fritz 8 (1 ply)
Black: Chess Challenger Voice (Deutsch) (± 10 seconds / move)
(Result: drawn)