BRUSSELS (29 october 2006)
During our last visit -- a few years ago -- we had accidentally entered the part of Brussels where the European Community is housed.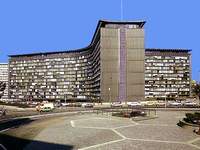 EC building
This is by no means the cosiest part of Brussels. It is dominated by gigantic buildings. When, for instance, you feel somewhat peckish, you'll find that most restaurants there are closed: they live on the luncheon vouchers provided by the European Community. So why should they stay open in the evenings?
Not long after our arrival in Brussels we see that most space that is vacated is still being filled with monstrous blocks of concrete.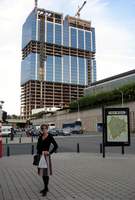 Lea near high-rise in the making
The name of our hotel is Queen Anne. It is situated on Boulevard Emile Jacqmain. This boulevard is characteristic of Brussels: on the western side there are still are still a lot of old houses, tearooms and restaurants, but the sex industry also appears to have made some inroad. The surroundings of that side of the boulevard still have human dimensions: small streets and old houses.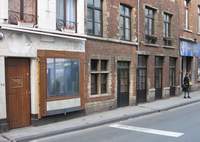 street west of Blvd Emile Jacqmain
The east side of Boulevard Emile Jacqmain is dominated by high-rise buildings.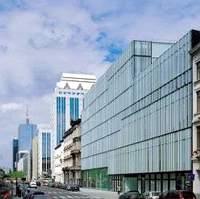 Blvd Emile Jacqmain, east side
Especially the Fortis Bank has put real monstrosities here (and in other parts of Brussels).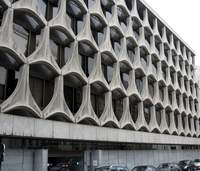 another Fortis monstrosity
Brussels is a mixture of extremes. At certain points in the city this contrast is quite visible, in particular where huge palaces border or parts of the city that are characterized by more human dimensions.
old city seen from 'Kunstberg'
Brussels is swarming with statues. During our stay, which lasted less than three days, we have seen hundreds of them, such as in the park below, where a score of statues must have broken the world record of pole-squatting hands down.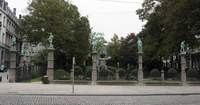 small park with statues
A very human scale of Brussels is to be found in an area called Marollen. This is the name by which the surroundings of the Hoogstraat (literally: High Street) are known. Here you'll still find quite a few old shops. For instance, the place shown below -- where, if you look hard, my sweetheart can be perceived -- used to be a shop where felt hats were sold. The owner always reminded me of James Hadley Chase -- if the name rings a bell to you. Unfortunately, the premises now house a trader of rather expensive bags.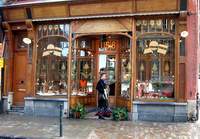 former hat shop
In a rather comical fashion, the human scale is emphasized (or even exaggerated) by two small houses which are probably among the narrowest in Brussels.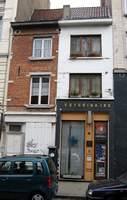 narrow houses, Hoogstraat
That not all the old buildings are pulled down and replaced by monstrous high-rise buildings, can be seen near the Rue de la Rasière. There we see a number of residential buildings, which look renovated in a pretty kind of way, which we don't remember ever having seen before (so they may even be new).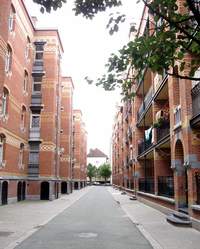 residential block near Rue de la Rasière
As we reach the Vossenplein , we are somewhat late for the flea-market. The market officially closes at 1 PM. Obviously, not all merchants feel like taking their unsold stuff back home again. All that is left of the market is a few dozen people rummaging through what the merchants have left behind.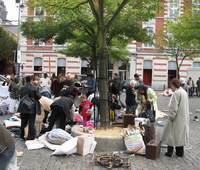 Vossenplein
The contrast between the human scale and the monumental is also clearly visible here, dominated as the area is by the Palace of Justice, over a hundred metres high.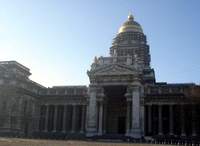 Palace of Justice
From the Marollen we continue our walk in the direction of Amerikastraat, where the Horta Museum is situated.
Victor Horta was an architect who designed a lot of buildings in Art Nouveau style. The museum was the late architect's residence and studio.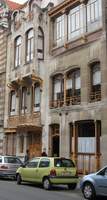 Horta Museum
The house has been completely restored and is a must for those who love Art Nouveau.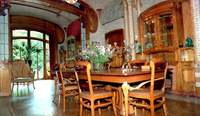 Horta's living room
Every little detail in the house is a feast for the eye. The central stairwell is a good illustration of the way in which Horta managed to use glass, steel and wood to create an impression of the immaterial.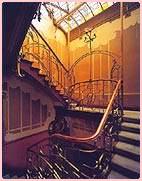 stairwell Horta
Horta paid much attention to details. For instance, door handles were not just purchased at the hardware store.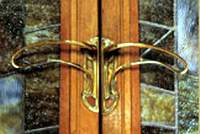 door handle Horta
The abundance of horrible new buildings would almost make you forget that Brussels is more than a thousand years old. On our way back we see the remnants of old city walls, which form the background of a (Dutch-language) school.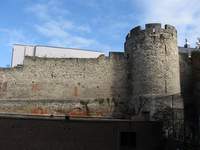 remnant city wall
On the third and last day we wake up far too early because our room at the Queen Anne feels like the tropics. The only way to get the temperature to a more bearable level is by opening both the window and the curtains -- which may be good news for other guests with tendencies towards voyeursism.
After breakfast, we have a few hours left before we have to return. We decide to make a last walk.
One of the things we see is the façade shown below which is only a few yards wide and whose balcony is borne by a few more-than-lifesized ladies that are stark naked, albeit made of stone.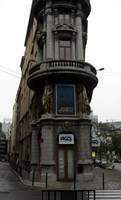 narrow façade with naked ladies
Our hotel appears not very far removed from the former department store Waucquez, which is no longer used as such, but houses the Centre Belge de la Bande Dessinée. This building was also designed by Victor Horta, which is clearly visible through the large entrance shown below.
entrance Waucquez
When we leave the museum, it becomes clear once again that ugly show-off is never far away in Brussels: the first thing that catches our eye is a hearse disguised as all-terrain-vehicle (or the other way round, if you wish). According to information provided by my sweetheart, this is a so-called Hummer. I was not surprised to learn this monstrous, environment-unfriendly vehicle has been popularized by Governor Arnold Schwarzenegger.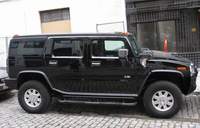 "Hummer"
But this is not the only ugliness around. When we turn our heads, we see a building that may originally have been designed as a bunker -- or the architect may have been inspired by the eye sockets of a skull.
unfrivolous building
But let's not end this weblog in a sombre note and look at a text I found on a shop window in the Chinese area close to our hotel. Rarely did I see a name with such a strong suggestion of savoury food and drink: