SUPERSTITIOUS? (28 july 2006)
My mother was very catholic. In her car she had a medallion attached with an image of St Christopher, who is supposed to be the patron saint of travellers.
It may have nothing to do with St Christopher's medallion, but although my mom was not a very good driver, she was never involved in anything more serious than wrong parking.
In 1995 my mother became seriously ill and she decided to sell her car, at the same time that my sweetheart had heard that her own vehicle would not pass the certification test. That's how my mom's car stayed in the family.
But not only had my mother turned out not to be everlasting, the vehicle that had so dutifully carried her around started to show more and more defects. So inevitably the day came when my sweetheart needed a new automobile. Of course, Christopher's medallion went into this new vehicle.
But as you know: cars come and cars go. So it won't surprise you to hear that this new car also failed to pass the certification test. This time we decided on a second-hand Nissan Micra, which reasonably matched my sweetheart's charms.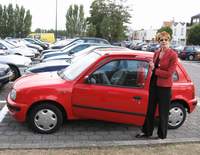 Lea & Micra
But humans should know their limitations, so it was decided that the tecnical side was to be inspected by an expert. That's why last Wednesday we were driving our old car through Zwanenburg on our way to a trusted garage where the bright-red Japanese automobile was going to be inspected.
Before an equally red traffic light my sweetheart had to stop, but however much she tried to step on the brakes, the car just kept on moving, and eventually landed on the bumper of the car before us.
Nobody was hurt - thank you.
But my sweetheart did remark that she had this accident at the very moment that Christopher's medallion had been removed (to prevent it from landing at the scrap heap - along with the car).
We are not superstitious, but you'll understand what has now been attached to the dashboard of the new Nissan Micra . . .