FRITELLE DI MELANZANE (27 december 2003)
As a remainder (or reminder) of Christmas here a recipe for a (vegetarian) starter dish:
Fritelle di melanzane (4 servings)
Ingredients:
1 large aubergine (about 700 g)
2 tablespoons olive oil
1 egg, lightly beaten
2 garlic cloves, crushed
4 tablespoons chopped fresh parsley
130 g fresh white breadcrumbs
90 g grated Parmesan cheese
90 g feta cheese, crumbled
3 tablespoons plain flour
sunflower oil for shallow frying
salt and freshly ground pepper
To serve:
natural yogurt flavoured with fried red chillies and cumin seeds
lime wedges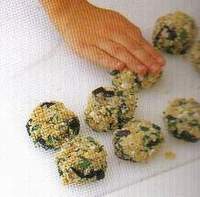 Preheat the oven to 190°C. Cut the aubergines into 1/1½ thick slices. Brush the slices with the olive oil, then place them on a baking sheet and bake for about 20 minutes until golden and tender. Chop the slices finely and place them in a bowl with the egg, garlic, parsley, breadcrumbs, Parmesan and feta. Add salt and pepper to taste, and mix well. Leave the mixture to rest for about 20 minutes. If the mixture looks very sloppy, add more breadcrumbs.
Divide the mixture into eight balls and flatten them slightly. Place the flour on a plate and season with salt and pepper. Coat the fritters in the flour, shakking off any excess.
Shallow fry the fritters in batches for 1 minute on each side, until golden brown. Drain on kitchen paper and serve with the flavoured yogurt and lime wedges.
(from The Italian Kitchen Bible by Kate Whiteman, Jeni Wright and Angela Boggiano)