NOSEPICKING FOR PLEASURE (26 january 2004)
There is a pastime which is practised by quite a large number of us, but which is admitted to by only few of those who practise it.
It can occasionally be beheld when its practitioners believe they are unobserved. Just have a peek at a line of cars waiting before a traffic light, or people watching television in the privacy of their living-room, and you'll see a surprising number of them involved in this pastime.
If it was not already clear to you, I'm referring to the practice of nose picking - done by so many, but unfortunately so often in a too amateurish way.
For those who wish to perfect the art of nosepicking, mr Roland Flicket has written the exceptionally handy book Nosepicking For Pleasure.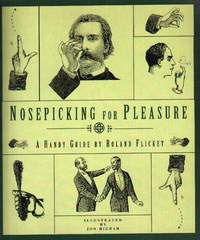 It was my friend C O of Rotterdam, who first drew my attention to this fine work. I'm afraid I can't tell you whether he is an active practitioner, although you might interpret the fact that he was drawn to this book as an affirmative answer to this question.
After some thirty pages, in which mr Flicket gives a summary of the history of the art, he presents very exhaustive descriptions of the techniques that are involved.
Mr Flicket cannot be accused of taking his subject lightly. He even goes as far as presenting diagrams that clearly show the various techniques employed in this fine art.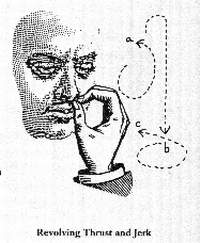 I am not in the habit of advertising in this weblog, but for this work of great scientific value I'll gladly make an exception. The book was published by Warner Books in Great Britain. Its ISBN is 0 7515 0982 5.