IN MEMORY OF FATHER VOSS (22 march 2004)
When I was twelve years old, I went to a seminary - a school for boys who are going to be priests.
I don't remember this as the happiest period of my life. In hindsight, I'm not surprised. Locking boys up at an age when they should be discovering the world around them, including the fair sex, is generally not a very good idea - whether the boys say they want this or not.
The staff of the seminary consisted of priests. One of the priests that I remember was Father Alfons Voss.
A few days ago I heard that he died last week at the age of 84.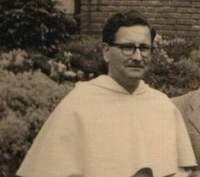 Father Alfons Voss
Father Voss was an exception at the seminary, in the sense that he was quite 'normal'. Many other priests were a bit peculiar - which is probably an understatement.
The seminary was subdivided into two sections, junior and senior students. Both sections had their own chiefs. The official title of these chiefs was prefect. Father Voss was the prefect of the junior students.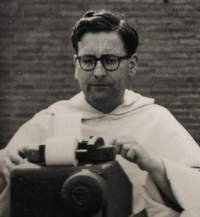 with an old-fashioned calculator
He must have been an administrative wizard because he was often involved in administrative work, not only in the school administration, but also in work like calculating sport results.
There's one thing I clearly remember about him. He used to read stories to us. The stories I liked most were the Father Brown stories by G.K. Chesterton.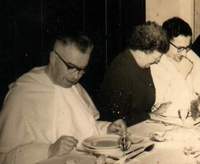 at a festive dinner (on the right)
I'm sure his readings must have stimulated many a student into reading books in later life. To me, he was an excellent teacher. Later, when I started teaching, father Voss was an example to me as a teacher who managed to make his lessons both instructive and pleasant to his pupils.