PRAGUE (21 march 2005)
The first thing that struck me while I was riding on a mini bus from the airport to the Czech city of Prague was a car logo that I've rarely seen in the Netherlands:





The name associated with this logo turned out to be Skoda. At least half of the cars I saw were Skodas. Perhaps the name of suggests visions of cars like the Trabant from the former GDR. But just one look at the picture below will bring an end to this association.
A sleek shiny red vehicle as you might find in London or Paris.
Another thing that I noticed was the Czech food. My sweetheart and I were often served sauerkraut and goulash. The Czechs usually eat this with knedliky , which the English menu calls dumplings. I saw potato and bread knedliky. The latter ones looked like round slices of compact, crustless white bread: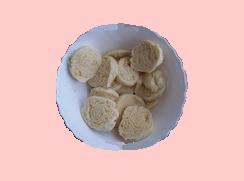 It takes a little getting used to, but those with an open mind will have little trouble appreciating the Czech cuisine.
By the way, if huge restaurant bills tend to scare you off, you'll have little to fear in this country: my sweetheart and I often dined for no more than 500 czk (about 20 euros). And that included a bottle of wine.
Next time more about this fantastic city.
PRAGUE 2 (22 March 2005)
Today a pair of photos that I took in the Czech capital city. See if you recognize anything ...
You may not immediately see what the picture represents that my sweetheart is pointing at. But Belgians will recognize it immediately as the lion of Belgian supermarkt Delhaize.
And what about the next photo?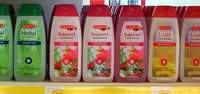 Dutch people may recognize the characteristic company style. It is indeed Dutch drugstore Kruidvat. In Prague they are known under the name of Rossmann .
You see: the Czech economy too is subject to the process called globalization.
Pleasant for Mr Delhaize and Mr Kruidvat. But it won't be long before inexpensive meals are a thing of the past in Czech. Which may not be such a huge problem -- as long as goulash and knedliky are not replaced by the products of McDonald's and Kentucky Fried Chicken - which you'll already find in Prague in too large numbers.
PRAGUE 3 (23 March 2005)
Yesterday we visited the former ghetto -- where not many Jews are left. We found the old cemetery particularly impressive. Visitors were requested not to take pictures -- with which request I readily complied. You can find a lot of information about Prague's Jewish area on the Internet -- including pictures.
As far as tourist attractions are concerned, staring at the Wenceslas statue or the astronomical clock together with thousands of fellow tourists is not exactly my cup of tea.
Today my sweetheart and I decided to have a look at a different part of Prague. The very helpful receptionist at the excellent hotel Amadeus told us there was a market (Holesovice) on the left bank of the Moldau (which river in Czech is called Vltava).
Those who can appreciate human drama will not easily get bored on such a market: for instance, we saw a vendor who kept following a prospective buyer over a hundred feet or so shouting: Alright, five hundred -- o.k. four hundred fifty -- no I'll make it four hundred, good, only for you: three hundred fifty , and so on until they were out of earshot.
At a certain point I was approached by a woman, who inquired where I came from. After I had asked where she originated from and learned she was from Vietnam, I told her I was from The Netherlands. As if my nationality had anything to do with it, the woman guided me to a storage container, where she offered me an assortment of clothing with expensive looking labels, such as Hugo Boss and Lacoste.


She obviously did not know me very well, or she would never have tried to impress me with expensive clothing. She might as well have offered me clothing from Walmart or Woolworth's.
For the rest, my sweetheart and I mainly saw a lot of the same: clothes, shoes, watches, toys, cheap electronics -- in short: the cheap stuff that increasingly overflows markets all over the world.
After our visit to the market my sweetheart and I made a brisk walk and we boarded tram no 24 at the Wenceslas Square. A few irritating figures were standing in the way blocking the passage between me and a few empty seats down the tram. I was left no other choice than almost pushing a "lady" over so that she had to let me pass.
My sweetheart does not only belong to the weaker sex, but she is too civilized to work her way violently. So she kept waiting patiently until the ill-mannered bunch would step aside.

Soon the yokels got off the tram and my sweetheart and I could sit down.
I tried to relieve the tension by cracking a silly joke. "They've cut open your bag," I said winkingly ..... suddenly noticing that her bag was actually cut open.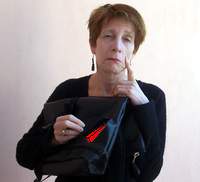 My sweetheart keeps everything in her bag in separate cases ... which makes it very hard for herself to get anything out. But in this case it had prevented the riff-raff from taking anything from her.
So at least we had the satisfaction that not too much damage had been done ...
PRAGUE 4 (24 March 2005)
Today, we again avoid the tourist sites and move into a working-class area. Our starting point is a street named Jaromirova.
To say that the street is posh would be an exaggeration, but the architecture doesn't look bad.
Most houses are adorned with stucco -- which makes them look quite pretty. But if the stucco is removed, they offer a rather pathetic sight, as you can see here: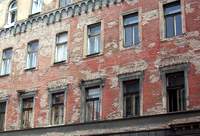 We entered a junk-shop. On the off-chance I inquired if the owner had any chess computers. Well, I was lucky: he got out a box covered with dust from under a pile of junk. The machine turned out to be a specimen from 1982, the Novag Micro II (click)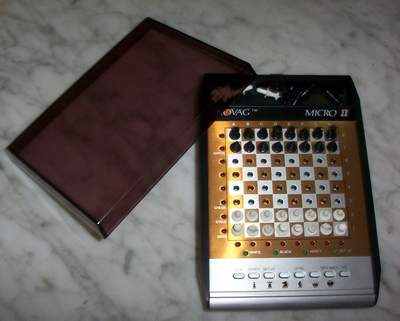 The man asked 600 czk, but when I offered 400, he gave in right away -- according to people more knowledgeable than myself, a sure sign that I could have offered much less. But believe me: 16 euros is not too much for such a museum piece!
In the afternoon, as we got somewhat peckish, my sweetheart and I entered a sandwich bar which was part of a chain called Paneria. To go with our coffee we took one of the most delicious sorts of cake I've ever tasted: honey cake with walnut, or medovy dort in Czech. I made a picture for you: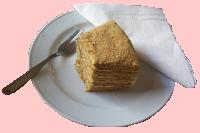 I admit: there are more spectacular kinds of pastry... but are they more delicious?
PRAGUE 5 (25 March 2005)
Until the moment that my sweetheart and I were to leave for the airport, we had about three hours left. One part of Prague we hadn't seen yet was Smichov. So maybe you can imagine where our journey led this morning.
Smichov lies on the other side of the Moldau, not far from the area where our hotel was situated. But the nearest bridge is a railway bridge, so we expected to need about half an hour to reach the nearest accessible bridge -- Palackeho Most.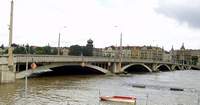 Palackeho Most
Via roads with exotic names like Na Slupi and Svobodova, we walked towards the river. We were very much surprised to find the railway bridge accessible to pedestrians. Our elder daughter, who later revealed she'd walked here last year, told us about the terrible noise you experienced when you were walking when a train happened to be passing.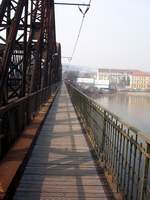 By the way, opposite one end the bridge there's a villa made of concrete. "Phew, concrete!" you may exclaim, but both my sweetheart and I were charmed by the architecture of this villa.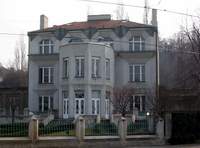 Our walk along the Moldau turned out to be most rewarding. Seldom did I see so much pretty architecture in such a short time.
The airline companies advise their clientèle to be at the airport two hours before departure. Our taxibus was early and the airplane late, so we had two spend over three hours at the deadly boring airport -- while we could still have walked around in the most beatiful city in the world.
Looking for some diversion, we found a "massage seat", into which 20 czk had to be inserted. The first coin did not bring about any movement. This may have been meant to induce me into throwing all the coins I'd left into this seat -- but your weblogger is not that stupid.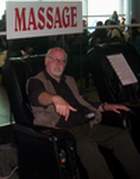 My sweetheart purchased sunglasses at 15 euros. To be honest, I don't think 15 eoros is cheap for sunglasses. But they were literally thrown on the counter wrapped in a flimsy bag as if they were a cheap junk.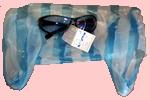 Out ticket mentioned KLM as our transporter, but the airplane was from Czech Airlines.
This company should really send its staff to English training. I did not understand any of the instructions that we were given. To tell you the truth, it took some time before I understood that the purser was not addressing any Chinese passengers but she was actually trying to speak English.
A somewhat curious ending to a marvellous trip ...