A VERY PRIMITIVE INDUSTRY (19 january 2004)
Isn't it amazing how technology has progressed?
When I was young, a computer was something that occupied a large room and had a memory capacity that was about 100,000 times smaller than present-day computers have. And its speed was a thousand times slower.
Television sets and a mobile telephones were unknown. And nobody knew about LPs or cassette tapes, let alone CDs or DVDs.
All these things have been invented by engineers who went out of their way to make things that fulfilled the most extreme wishes of consumers and had seemed almost unthinkable up to now.
How different things are in the building industry: I live above a hall that is being converted into a fitness centre. At 7.30 am I am expelled from my bed by ultra-noisy machines that are used to crush concrete. And after a while, my apartment is filled with paraffin fumes because the building industry never seems to have heard about the most basic methods to avoid pollution.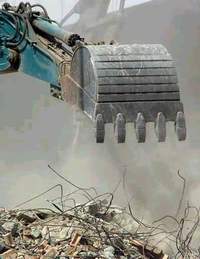 If you think it is possible to complain about the fact that residential apartments are being filled with fumes, you must be kidding: Amsterdam has thousands of civil servants who are supposed to perform all kinds of tasks. But when it comes to protecting people against excessive noise or pollution, they profess to sympathize with your lot, but that's all they can do.
It may be questioned whether the construction industry is really interested in constructive measures. Many people living near construction sites are "treated" to noise that is called music blaring from the construction workers' radio. Or, to give just one more example: how many construction workers will consider not to start noisy work before 10 am?
When will the building industry leave the Middle Ages? Or are they - just like the aviation industry - released from obligations that go for every other industry?