WEEKEND AT BLOOMING (16 may 2004)
Fifty years ago, our family used to spend part of the summer holidays at Bergen. We usually rented a house, or better part of a house. And we went there by bike. You can read about it here.
Last week I revisited Bergen. This time I went as father of my own family. Not by bicycle, but driven in my wife's car. And we stayed at a very comfortable hotel. How the family have progressed as far as luxury is concerned!
The hotel was called Blooming, a word that is sometimes used in Britain as a less offensive variation of bloody - as in "the blooming idiot".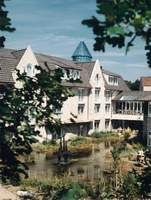 Blooming at Bergen
The hotel was designed with excellent taste - much better than the vague grey and pink colours that you see in too many middle-of-the road hotels.




The rooms were very pleasant to stay. Breakfast was fresh, abundant and well-served. At some hotels you have to appear very early, or there will be no breakfast for you at all. At Blooming you may appear until 10.30, which I consider rather generous.
Dinner at the hotel was not very expensive, but lacked in quality. My entrecôte was rather tough, probably because it was not cooked long enough. I think kir should contain so much liqueur that you can taste it. Blooming's kir did not taste of liqueur at all. I got a dessert with a kind of marshmellows that were too tough for a dessert and although it was a lemon-dessert, I still think desserts should not taste as sour as this one did. I liked the music in the dining room, but why the same tape was repeated several times in one hour is beyond my comprehension.
Of course, when you're near the coast, you wouldn't want to miss the beach, would you? So the family made two walks on the beach.








Our daughters are young enough to enjoy an amusement park. So we went to De Batavier between Bergen and the town of Alkmaar. We intended to sit there and have some coffee while the daughters were in the park. But we heard that even if we only drank coffee, we should still have to pay the entrance fee.
We thought this a rather ridiculous proposition, made a few pictures in front of some distorting mirrors outside the amusement park and promised our daughters we would pick them up in two hours.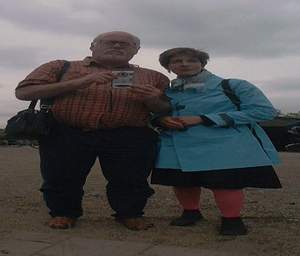 me and my sweetheart
And with this somewhat confusing picture, I have to say goodbye to you for today. But I do hope you'll return.