ED MCBAIN (9 july 2005)
I have a strange way of reading books. When I really like a book, I read as many books by its writer as I possibly can.
Long ago, I used to find great pleasure in reading books by James Hadley Chase. He wrote well over a hundred books, so for quite a long time I was not short of books to read.
Another writer that I fancied was George Orwell. Unfortunately, he didn't live long enough to write many novels. So it didn't take long before I'd read them all.
Since both of these writers were not among the living at the time I read their books, not many new books were to be expected from their side.
A few years ago, I discovered the books of Ed McBain. You may have read my weblogs with discussions of what I read. ( click, click, click , click, click).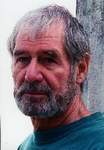 Ed McBain
A pleasant circumstance with McBain's books was that he kept writing them. So at the moment I'm lucky enough to read one that was published as recently as last year: The Frumious Bandersnatch.
And I expected there were more to come. But unfortunately, this pleasant circumstance has ended: today I heard that Ed Mc Bain, alias Evan Hunter, alias at least four other pseudonyms, but born as Salvatore A. Lombino, died at the age of seventy-nine.
I think he was one of the best fiction writers of our days. If you want to know more, click any of these links: