TASTY SOUP, AND THEN ... (7 october 2006)
Usually, I'm not the most avid lover of vegetarian restaurants. It's true they tend to serve healthy food, but as the late culinary writer Ton van Es used to add: "they do make you aware of that!"
When I entered the Green Planet in the Spuistraat in Amsterdam, I intended to appreciate the food offered on its merits without any prejudice. Initially, that proved to be not too difficult: the soup of pickled cabbage had a very good taste. Those who know the Czech cuisine will know that pickled cabbage has a lot more possibilities than our combinations with potatoes might suggest.
When the main dish appeared, it turned out mainly to consist of pieces of potato, cubes of tofu and pumpkin. To me, the latter ingredient was somewhat superfluous: the pumpkin's substance hardly matched the rest of the ingredients. The color did look pretty, but the biggish, somewhat tasteless chunks hardly added to the taste.
But the dessert would make up for any shortcomings. After all, it was advertized as "the queen among desserts". It appeared to look quite nice: a bun which very much resembled bapao, sprinkled with poppy seed and lying in a puddle of cream.
But however pleasant the dessert looked, the taste did appeal neither to my sweetheart nor to me. The substance could best be compared to knedliky, which may be a treat to East-European taste buds. What we experienced was little more than a doughball whose best quality was that it was filling. The plum jam could improve very little about this.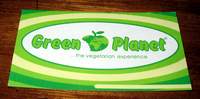 A rather disappointing conclusion of a meall that had started so promising ...