BYE, BICYCLE! (3 september 2004)
For today, I intended to write about the joys of cycling.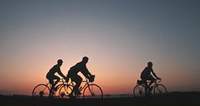 But sorry, the plans have changed. I'll tell you why.
This afternoon I wanted to go for a walk with my sweetheart. When we had descended the stairs, my sweetheart, whose sweet eyes are as sharp as a falcon's, spotted it at once: my bicycle was gone.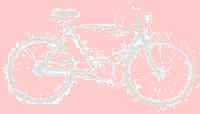 But what made it particularly strange is the fact that the only people who can enter our apartment block are the inhabitants: you can only enter the place where I'd left my bicycle by opening two doors with a key.
Two years ago, lots of bicycles were stolen from our apartment block. After a while, it turned out that a woman who lived in an apartment upstairs had a son who was a drug addict. She'd given him her key. A delegation went up to her and after some talking it was agreed that she would ask the key back. Immediately after this visit no more bicycles were stolen.
But of course, nobody could prove who'd done it.
When I found out that my bike was stolen, I inquired about the neighbour's junkie son. And what do you think? He's back!
Maybe you can imagine why I sometimes contemplateTeddy Roosevelt's advice: "Carry a big stick"