Organizer Chess IQ-718M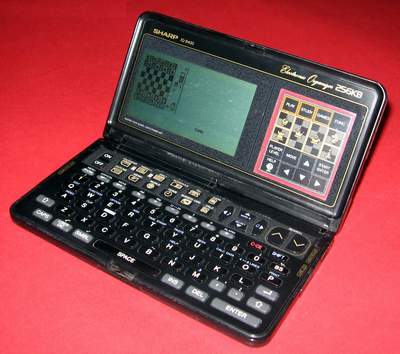 Computer name:
Organizer Chess IQ-718M
Manufacturer:
Sharp Corporation
Dates from:
1992
Dimensions:
17.9 x 9.7 x 2 cm (board on screen: 2.5 x 3.15 cm)
Power supply:
Organizer: 4 x CR2032, card memory battery: CR2016
Processor speed:
32,768 Hz.
Memory:
128 KB ROM, 32 KB RAM
Rating:
Occasional players
Other details:
4 levels: 6, 15, 60 seconds, and one as desired.
Option to connect printer CE-50P.
Positions can be entered (STUDY key)
Contains 100 games (e.g. by Napoleon and Deep Thought).
All moves can be taken back.
Card (click) is slid into organizer lid.
Max. 10 games can be saved on card.
Click here for screenshot.
4 EXAMPLE GAMES:
White: Fritz 8 (1 ply)
Black: Organizer Chess IQ-718M (± 10 seconds / move)
(Result: won by white)
White: Fritz 8 (1 ply)
Black: Organizer Chess IQ-718M (± 10 seconds / move)
(Result: won by white)
White: Fritz 8 (1 ply)
Black: Organizer Chess IQ-718M (± 10 seconds / move)
(Result: won by white)
White: Fritz 8 (1 ply)
Black: Organizer Chess IQ-718M (± 10 seconds / move)
(Result: won by black)