Chess Champion Mark V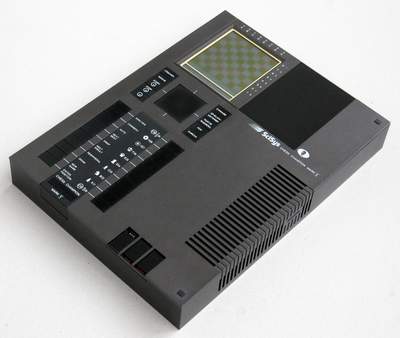 Computer name:
Chess Champion Mark V
Manufacturer:
Scisys
Dates from:
1981
Dimensions:
34.2 x 25.4 x 4.5 cm.
Power supply:
DC 8-Volt, 22-Volt adapter
Processor:
6502A, 20 MHz.
Memory:
32 KB ROM, 16 KB RAM, 128 bytes CMOS
Programmer(s):
David Broughton and Mark Taylor
Rating:
occasional players / weak club players (Elo 1530)
Other details:
replaceable program module (Mark VI - Philidor, Elo 1550)
LCD chess board display
operated through keys
Twelve games can be played simultaneously
Click for information about Philidor module.
4 EXAMPLE GAMES:
White: Fritz 8 (1 ply)
Black: Chess Champion Mark V (± 10 seconds / move)
(Result: won by white)
White: Fritz 8 (1 ply)
Black: Chess Champion Mark V (± 10 seconds / move)
(Result: won by black)
White: Fritz 8 (3 ply)
Black: Chess Champion Mark V (± 30 seconds / move)
(Result: won by white)
White: Fritz 8 (3 ply)
Black: Chess Champion Mark V (± 30 seconds / move)
(Result: won by white)