Chess Partner 2000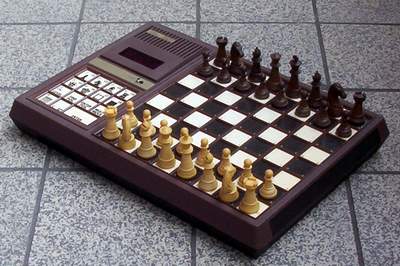 Computer name:
Novag Chess Partner 2000
Manufacturer:
Novag Industries Ltd, Hong Kong
Dates from:
1980
Dimensions:
33 x 23.4 x 4 cm
Power supply:
9-volt adapter
Processor:
Fairchild 3850
Memory:
3 KB ROM, 312 bytes RAM
Programmer(s):
David Levy
Rating:
beginners / occasional players
Other details:
chessmen can be stored under board
Same computer exists in a version which is supposed
to have been produced by Scisys (click).
Entering moves quite laborious.
The 4th game is drawn because Fritz-1-ply
cannot checkmate with K+Q against K alone.
4 EXAMPLE GAMES:
White: Fritz 8 (1 ply)
Black: Novag Chess Partner 2000 (± 10 seconds / move)
(Result: won by white)
White: Fritz 8 (1 ply)
Black: Novag Chess Partner 2000 (± 10 seconds / move)
(Result: won by white)
White: Fritz 8 (1 ply)
Black: Novag Chess Partner 2000 (± 20 seconds / move)
(Result: won by white)
White: Fritz 8 (1 ply)
Black: Novag Chess Partner 2000 (± 20 seconds / move)
(Result: drawn)