Next 4 in 1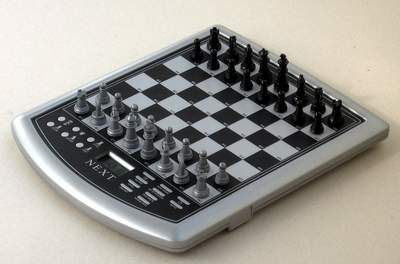 Computer name:
Next 4 in 1
Manufacturer:
Made in China
Dimensions:
29.7 x 24.4 x 2.5 cm
Power supply:
4 AA-batteries
Rating:
beginners / occasional players
Other details:
Pressure-sensitive board, LCD display
Claims to be able to determine player's rating.
Computer contains 320 grandmaster games.
Also plays checkers, reversi and connect-4.
But manual also mentions grasshopper and nim.
2 EXAMPLE GAMES:
White: Fritz 8 (1 ply)
Black: Next 4 in 1 (± 10 seconds / move)
(Result: won by white)
White: Fritz 8 (1 ply)
Black: Next 4 in 1 (± 10 seconds / move)
(Result: won by white)