Orion Intelligent Chess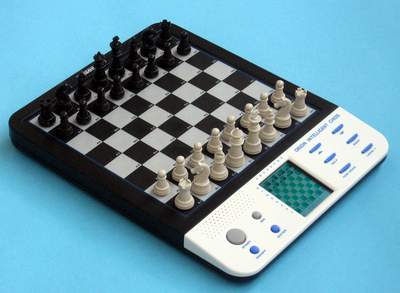 Computer name:
Orion Intelligent Chess
Manufacturer:
Millennium
Dates from:
2007
Dimensions:
25.4 x 20.2 x 2.3 cm
Power supply:
4 x AA
Rating:
beginners / occasional players
Other details:
Pressure-sensitive board
LCD display of chessboard
Plays seven more games.
Contains 1040 games by grandmasters and strong computers.
Program looks the same as Karpov Chess+.
The 3rd game is drawn as Fritz-1-ply
cannot checkmate with K+Q against K.
4 EXAMPLE GAMES:
White: Fritz 8 (1 ply)
Black: Orion Intelligent Chess (± 10 seconds / move)
(Result: won by white)
White: Fritz 8 (1 ply)
Black: Orion Intelligent Chess (± 20 seconds / move)
(Result: won by white)
White: Fritz 8 (1 ply)
Black: Orion Intelligent Chess (± 20 seconds / move)
(Result: drawn)
White: Fritz 8 (1 ply)
Black: Orion Intelligent Chess (± 30 seconds / move)
(Result: won by white)