Micro Travel Chess Computer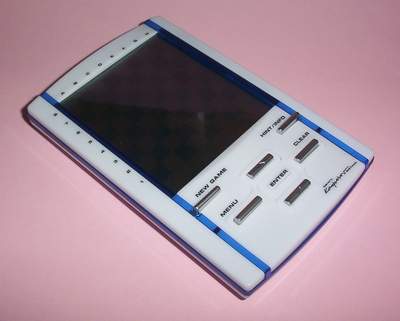 Computer name:
Micro Travel Chess Computer
Manufacturer:
Mephisto / saitek
Dimensions:
13 x 8.3 x 2.2 cm.
Power supply:
4 x AAA
Rating:
beginners / occasional players (Elo 1600)
Other details:
touch-screen with stylus
closely resembles Saitek Cosmic
Has 50 levels, 45 of which are so-called 'fun levels'.
Highest level is 15 seconds/move.
The fourth game is drawn because Fritz-one-ply
cannot checkmate with king + queen.
4 EXAMPLE GAMES:
White: Fritz 8 (1 ply)
Black: Micro Travel Chess Computer (± 10 seconds / move)
(Result: won by black)
White: Fritz 8 (1 ply)
Black: Micro Travel Chess Computer (± 10 seconds / move)
(Result: won by white)
White: Fritz 8 (1 ply)
Black: Micro Travel Chess Computer (± 10 seconds / move)
(Result: won by black)
White: Fritz 8 (1 ply)
Black: Micro Travel Chess Computer (± 10 seconds / move)
(Result: drawn)