Supermini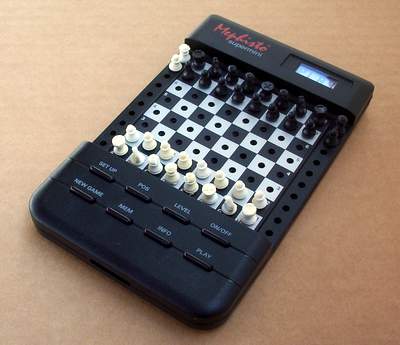 Computer name:
Mephisto Supermini
Manufacturer:
Hegener & Glaser
Dimensions:
15.5 x 10 x 2.3 cm (incl. cover)
Power supply:
4 AAA-batteries
Processor:
M50747, 8 MHz.
Memory:
8K ROM, 256 bytes RAM
Rating:
occasional players / weak club players (Elo 1450)
Other details:
chessmen inserted over pressure-sensitive contacts
4-cijferig LCD-schermpje
Mephisto allows the 4th game to end in a
draw, but Fritz had actually resigned!
4 EXAMPLE GAMES:
White: Fritz 8 (1 ply)
Black: Mephisto Supermini (± 15 seconds / move)
(Result: won by white)
White: Fritz 8 (1 ply)
Black: Mephisto Supermini (± 15 seconds / move)
(Result: won by black)
White: Fritz 8 (1 ply)
Black: Mephisto Supermini (± 30 seconds / move)
(Result: won by white)
White: Fritz 8 (1 ply)
Black: Mephisto Supermini (± 30 seconds / move)
(Result: drawn)