Bistro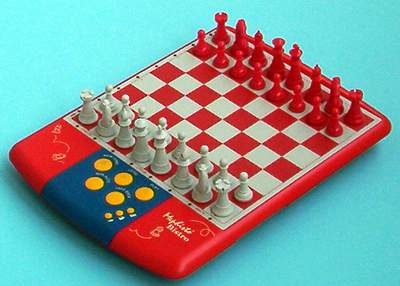 Computer name:
Mephisto Bistro
Manufacturer:
Hegener & Glaser
Dimensions:
31 x 23 x 3 cm.
Power supply:
4 x AA
Processor speed:
1 MHz.
Memory:
7,5KB ROM 176 bytes RAM
Rating:
beginners / weak occasional players
Other details:
pressure-sensitive board
LEDs on two sides of board
16 Levels, 7 of which are 'fun levels',
6 for time per move, 1 for infinte time,
1 mate-search and 1 for looking for a win.
4 EXAMPLE GAMES:
White: Fritz 8 (1 ply)
Black: Mephisto Bistro (± 10 seconds / move)
(Result: won by white)
White: Fritz 8 (1 ply)
Black: Mephisto Bistro (± 10 seconds / move)
(Result: won by white)
White: Fritz 8 (1 ply)
Black: Mephisto Bistro (± 20 seconds / move)
(Result: won by black)
White: Fritz 8 (1 ply)
Black: Mephisto Bistro (± 20 seconds / move)
(Result: won by white)