Lexibook Trav. Ch. Explorer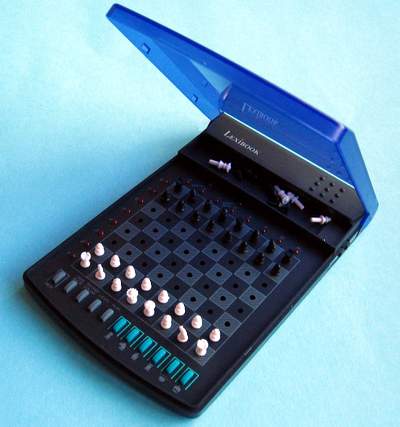 Computer name:
Lexibook Travel Chess Explorer
Manufacturer:
Lexibook (made in China)
Dates from:
2005
Dimensions:
18.4 x 11.5 x 2 cm
Power supply:
3 AA batteries
Rating:
occasional players
Other details:
chessmen on pegs inserted over pressure-sensitive switches
LEDs on two sides of board
very strong for such a simple thing
16 levels, 4 different playing styles
(normal, aggressive, defensive and 'random')
Manual is not correct: battery compartment does not
open by pressing a latch, but with a screw in the bottom.
4 EXAMPLE GAMES:
White: Fritz 8 (1 ply)
Black: Lexibook Travel Chess Explorer (± 10 seconds / move)
(Result: won by white)
White: Fritz 8 (1 ply)
Black: Lexibook Travel Chess Explorer (± 10 seconds / move)
(Result: won by white)
White: Fritz 8 (1 ply)
Black: Lexibook Travel Chess Explorer (± 10 seconds / move)
(Result: won by black)
White: Fritz 8 (1 ply)
Black: Lexibook Travel Chess Explorer (± 10 seconds / move)
(Result: won by black)