Conchess Ambassador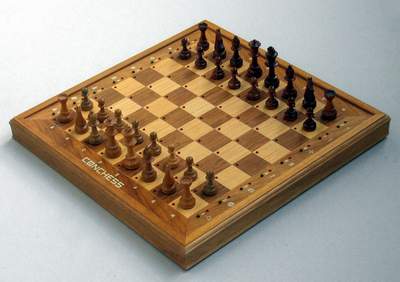 Computer name:
Conchess Ambassador
Manufacturer:
Conchess, Ierland
Dates from:
1982
Dimensions:
38 x 38 x 3.5 cm
Power supply:
adapter (9 Volt DC)
Processor:
6502A, 2 MHz.
Memory:
24 KB ROM, 4 KB RAM
Programmer(s):
Ulf Rathsman
Rating:
Occasional and club players (Elo approx. 1600)
Other details:
Wooden board with reed switches
LEDs on each of the 64 squares.
12 levels, 5 of which are for tournament, 5
'ply levels', 1 problem and 1 analysis level.
Room for 2 modules in bottom. Only one is used.
For more information, see this page.
In 1st example game, Fritz had already resigned.
4 EXAMPLE GAMES:
White: Fritz 8 (1 ply)
Black: Conchess Ambassador (± 10 seconds / move)
(Result: drawn)
White: Fritz 8 (1 ply)
Black: Conchess Ambassador (± 10 seconds / move)
(Result: won by white)
White: Fritz 8 (1 ply)
Black: Conchess Ambassador (± 10 seconds / move)
(Result: won by black)
White: Fritz 8 (1 ply)
Black: Conchess Ambassador (± 10 seconds / move)
(Result: won by black)