Chess Challenger 7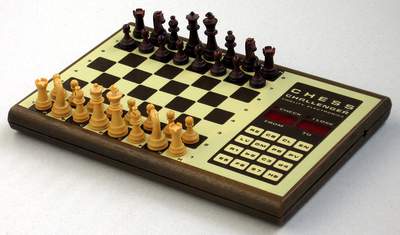 Computer name:
Chess Challenger 7
Manufacturer:
Fidelity Electronics
Dates from:
1979
Dimensions:
30 x 20 x 2.6 cm.
Processor:
Z80A, 4 MHz.
Programmer(s):
Ron Nelson
Rating:
beginners / occasional players (Elo 1311)
Other details:
Moves typed in with keys
Board not connected to computer
To see the display, click here
In the first two games Chess Challenger had a
won game, but the games petered out into a draw.
4 EXAMPLE GAMES:
White: Fritz 8 (1 ply)
Black: Chess Challenger 7 (± 15 seconds / move)
(Result: drawn)
White: Fritz 8 (1 ply)
Black: Chess Challenger 7 (± 15 seconds / move)
(Result: drawn)
White: Fritz 8 (1 ply)
Black: Chess Challenger 7 (± 15 seconds / move)
(Result: won by white)
White: Fritz 8 (1 ply)
Black: Chess Challenger 7 (± 15 seconds / move)
(Result: won by white)