Galaxy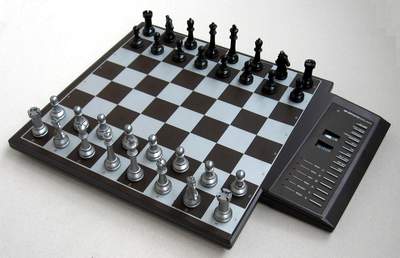 Computer name:
CXG Galaxy
Manufacturer:
Newcrest Technology
Dimensions:
31 x 31 x 2.5 cm (excl. control panel)
Power supply:
4 AA-batterijen of 9-Volt -DCadapter
Processor:
6502C
Processor speed:
4 MHz.
Programmer(s):
Frans Morsch
Rating:
club players (Elo 1880)
Other details:
pressure-sensitive board
16 LEDs on two sides of board
two LCD displays which can show all kinds of information
Computer can store your own opening moves.
-
In the 2nd game black's 73rd move throws away victory,
after which Fritz-5-ply turns out not to be able to mate with K+Q against K.
3 EXAMPLE GAMES:
White: Fritz 8 (1 ply)
Black: CXG Galaxy (± 10 seconds / move)
(Result: won by black)
White: Fritz 8 (5 ply)
Black: CXG Galaxy (± 60 seconds / move)
(Result: drawn)
White: Fritz 8 (5 ply)
Black: CXG Galaxy (± 60 seconds / move)
(Result: drawn)