TRICKS OF THE TRADE (2 december 2004)
One of the very few people who respond to my weblogs is Anton K. Needless to say I encourage all other readers to follow his example ... but that isn't the subject of today's weblog.
After reading yesterday's weblog ( click), Anton wrote me about an HP scanner he'd once bought at an outlet of Vobis, the electronic store chain.

When he needed a replacement for the adapter, Vobis did not show very much interest. All they did for him was give him the advice to get in touch with Hewlett Packard -- who could not help him, but mentioned a firm that sold the adapter - for €35, a price that would almost buy him a new scanner.
But the fact that he responds to my weblogs does not mean Anton is crazy. After some research, he found an electronics shop in the town where he lives. They could sell him an adapter for €17.50 and were even prepared to solder a fitting plug on. Bravo!
Everybody will agree HP and Vobis did not exactly play a customer-friendly role in this story.
But don't think that the fact that a manufacturer supplies missing parts is necessarily a good thing.
Ever bought an ink cartridge for a modern printer? If you buy two cartridges, you often pay the price for a complete printer - including one cartridge!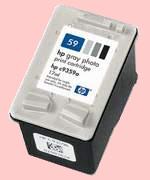 But suppliers of computer peripherals are not the only ones who use this trick -- sometimes referred to as the Gillette trick.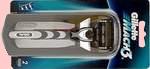 You buy the razor (including one blade) at less than the price of one single blade -- or you even get it for free. But if you want to buy a simple refill of blades for your razor, you often pay more than it would cost you to have your beard shaved by an expensive barber.
Please don't think I'm a pessimist. I'm very happy that this trick is not picked up by the manufacturers of batteries, fountain pen cartridges, staples and dozens of other refills that are still affordable.